The best way to get your online store preferred by customers is to present an environment where they feel comfortable and easy to interact with. Searching for a specific product on an online store can be very frustrating, it can take hours and hours to find that one product you want.
Searching for a product quickly can be made easier by using filters. You can add a plugin like WooCommerce AJAX Product Filters to make custom filters for your products. This plugin allows you to make filters with specific options accordingly.
Follow the steps below to download and configure the plugin
Download the plugin:
Simply click the link below and download the plugin.
After downloading, you need to upload the plugin file to the Add plugins section:
Plugins > Add new > Upload Plugin

Browse and upload the file. After the file has been uploaded, simply click Install Now. Then activate it.
Configuration:
Go to Dashboard > BeRocket > Filters and click Add Filter. You will be taken to a page like shown below: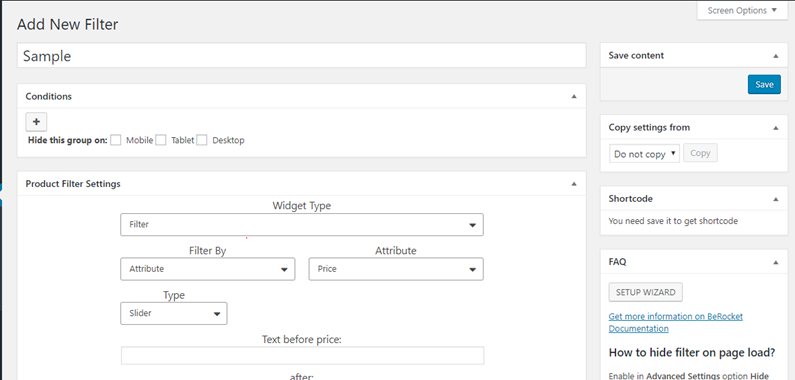 Then, put in all the characteristics of the filter you want and click Save when done.
After creating the filter, go to Dashboard > Appearance > Widgets and find AAPF Filter Single on the left-hand side of the page. Drag it and drop it in the section where you want to display the filter. Then simply click Save as shown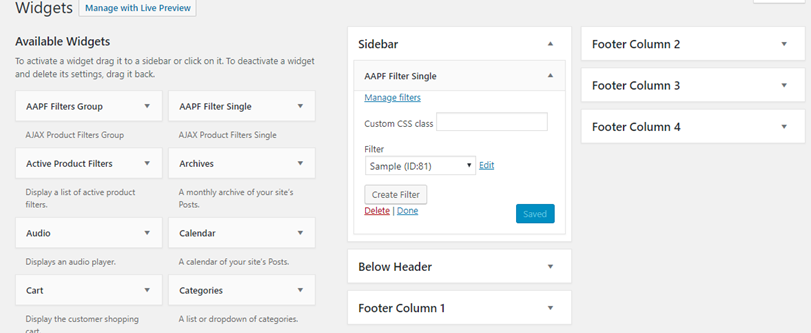 Once done you will get a similar output as shown below.