Dropshipping is a profitable eCommerce business concept that doesn't require a significant upfront investment. WooCommerce is a popular WordPress plugin that turns the blogging platform into a full-featured eCommerce store. Adding a WooCommerce dropshipping plugin takes this further, allowing you to source products from other territories, sell them in your online store, and ship them directly to your consumers without ever maintaining inventory.
Sounds interesting. Right?
This article will cover what dropshipping is and show you some top WooCommerce dropshipping plugins. There will be a discussion on What to Look for in WordPress dropshipping plugins and installation processes in the middle.
Let's start;
What is Dropshipping?
Start by understanding what starting a dropshipping business means; Drop shipping is a business through the internet where the store doesn't keep product stock. It's a simple process that can be described by the four steps below,
Step 1: You have got an online store; you market a product
Step 2: Your customer places an order in your store.
Step 3: You will redirect the order straight to your dropshipping supplier.
Step 4: The dropshipping supplier will handle the rest on your behalf. And your customer will receive the product straight from the dropshipping supplier.
Dropshipping is a fantastic way for new internet retailers to get started. You may sell a wide range of products without having any in stock if you deal with the proper drop shipper. You only need to set up your store, and you're ready to go!
Why Use a WooCommerce Dropshipping Plugin?
Dropshipping stores provide a lot of advantages over traditional forms of eCommerce. Purchasing and keeping goods isn't required, saving money on storage, shipping, and handling. You only have to pay for the goods when a buyer buys them, so there's no need to buy in bulk. However, you might miss out on bulk discounts. There are no logistical concerns with having to deliver things to customers. If the things don't sell, you won't have any leftover stock.
WooCommerce is great for typical eCommerce companies, but it has several drawbacks regarding dropshipping. When consumers order items from your store, you'll need a mechanism to redirect that order to your supplier. In addition, you must add product descriptions, photos, and reviews to the store, which can take a long time.
Of course, you know time is money. And it's the era of automation. That's where WooCommerce dropship plugins took the control to make your task easy like a piece of cake.
What to look for in a WooCommerce Dropshipping plugin?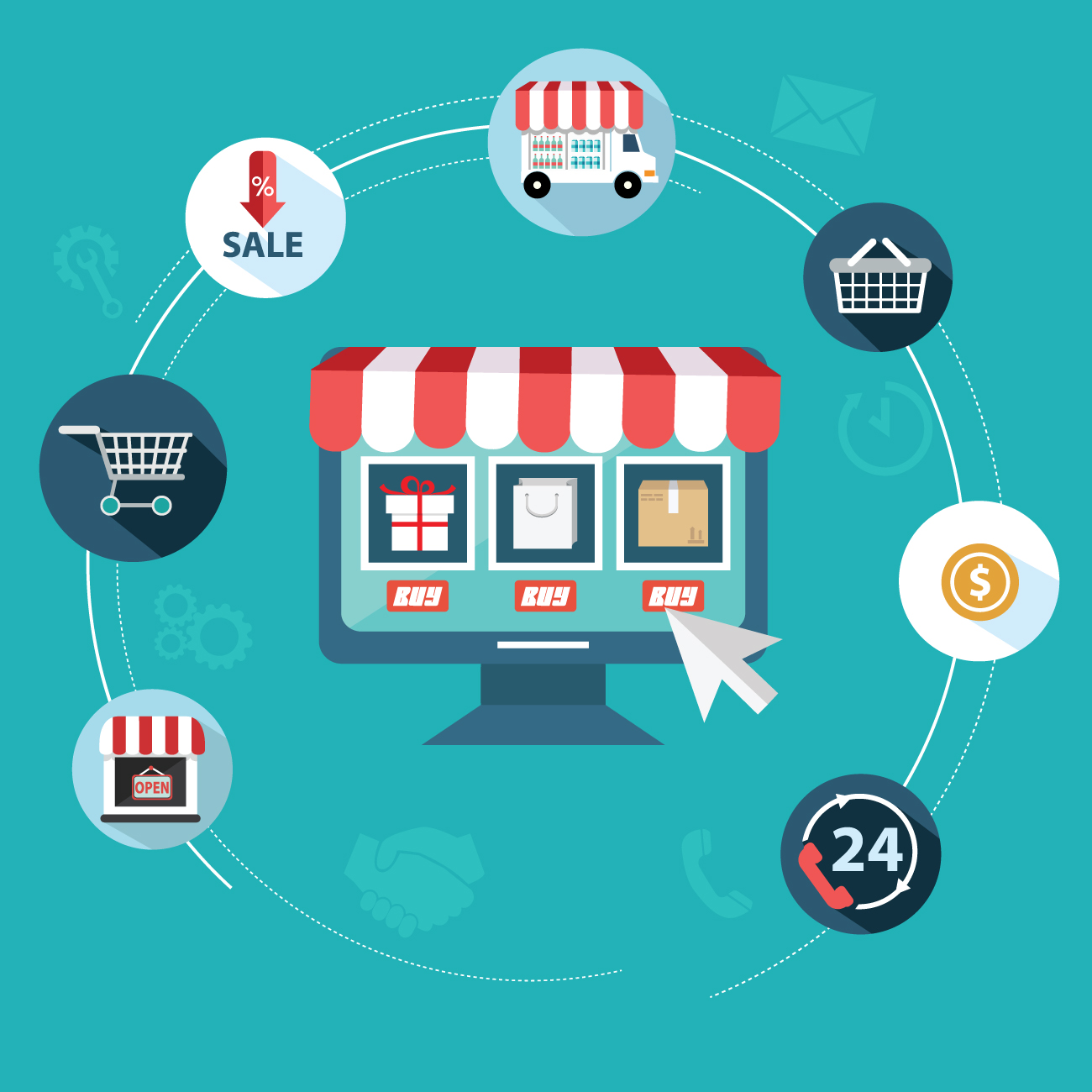 There are lots of WooCommerce dropshipping plugins on the WordPress repository right now. All of them have their characteristics. You have to choose the best one for yourself. We've listed a few indicators to help you differentiate them and decide the best for yourself. So here we see what to look for in a WordPress dropshipping plugin,
Easy product importation
The top priority criteria for choosing a WordPress dropshipping plugin should be an accessible product importation facility. You'll have full access to a drop shipper's merchandise after you've signed up. Rather than manually importing products from their platform into your store, you'll want to use a plugin that automates the process. It will surely save you a significant amount of time.
Easy product management
The thing after product importation comes to mind it is product management. When running an online store, keeping track of your inventory is essential. Without this, you may often face unfulfilled orders. So, look for a dropshipping plugin that lets you manage your product inventories right from your dashboard and make your product management easy.
Customer Reviews
Customer reviews are one of the vital things for any WooCommers website. It's pretty natural for any user looks for customer reviews before buying. Statistics say that 91% of 18-34-year-olds consider online reviews as personal recommendations, and 93% of consumers say online reviews impact their purchase decisions. So, it is great to have customer reviews on your dropshipping store website. That's why find a plugin that allows importing customer reviews.
Payments method
Let's imagine you came across an e-commerce business to purchase anything. You place the item in your shopping cart and proceed to the checkout page. You'll need to select the best online payment gateway for your store. And that's why your WooCommerce dropshipping plugin should provide you with different payment methods and getaways for your customers.
The customizability
Ideally, you can customize almost any element with the WooCommerce dropshipping plugin of your choice. Plugins need to blend into your WordPress site and allow you to customize functionality on both the frontend and backend.
Automation with the emails and notification
Automation is a process that saves your time by personalizing your content as your users need, segmenting your users to specify them, notifying them automatically about your updates, and a lot more. In the era of automation, you must adapt it to save your time and effort. So you must choose a WooCommerce dropshipping plugin that helps you automate all your actions, including the emails and notifications.
Easy WooCommerce and WordPress Integration
The criteria should probably be at the top of our list. After all, we are in WordPress to do WooCommerce. So we must consider a WooCommerce dropshipping plugin that integrates seamlessly with the WordPress ecosystem. Ideally, it is to be installed and working immediately without any hassle.
Setting up a Dropshipping Store With WordPress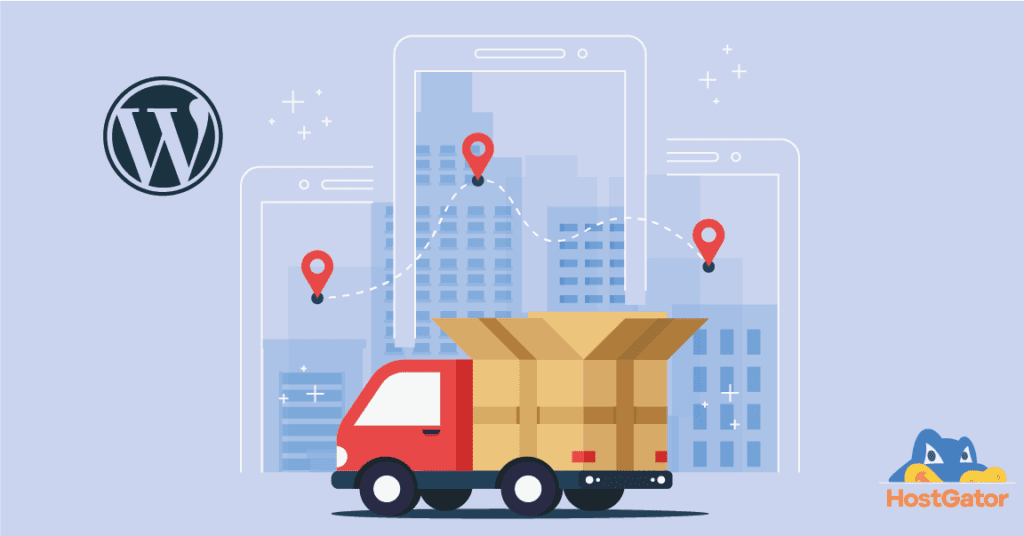 Using dropshipping to open a new online store is relatively simple. We won't go into great detail about the procedure right now, but it goes something like this;
Create a domain name and hosting account for WordPress.
Install a WooCommerce-compatible WordPress theme.
Install and set up the WooCommerce plugin on your WordPress installation.
Install, set up, and connect the dropshipping plugin to WooCommerce.
Make arrangements with a drop shipper.
Incorporate the things that the drop shipper can provide into your store.
Open your shop.
The things you can sell using this method primarily depend on the drop shipper you choose. There are now a lot of them that you can sell practically anything you can imagine.
The most challenging element is deciding which drop shipper to deal with. The great news is that each of the plugins on our list of the best WooCommerce dropshipping plugins will take care of this for you.
Specific drop shippers, such as AliExpress, Amazon, Etsy, eBay, and others, are supported by some plugins. Some plugins include a selected list of drop shippers from which you can choose. Others employ a mix of the two.
6 Best WooCommerce Dropshipping Plugins:
There are a lot of WordPress dropshipping plugins across the internet, and each of them offers a different set of features. You have to choose the best for your needs.
Following are some of the leading and best WooCommerce dropshipping plugins;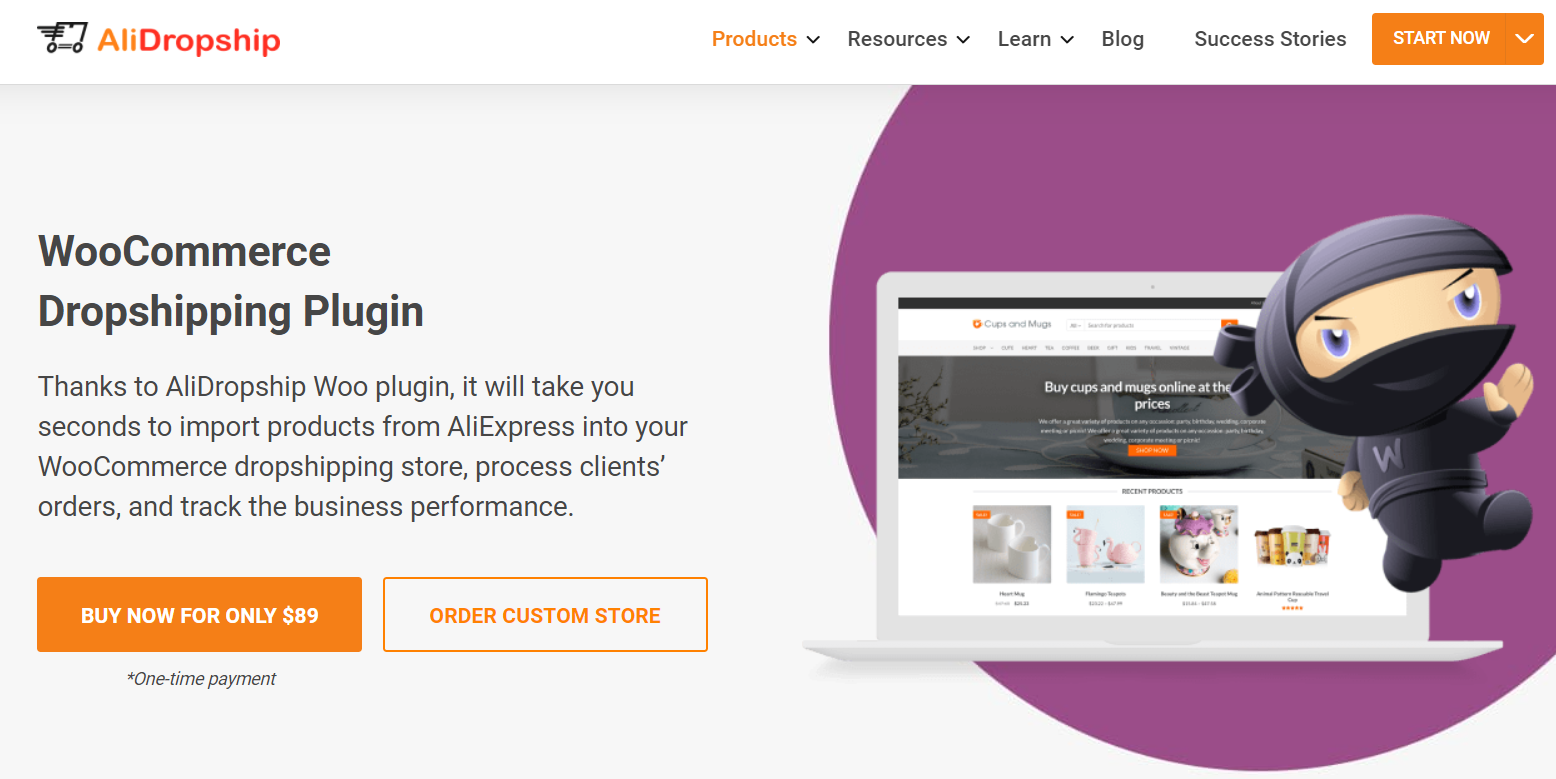 AliDropship helps you quickly import products from AliExpress and automatically sync price and stock information. Furthermore, you will be able to give fast shipping (3-14 days) in many nations, including the United Kingdom, the United States, and Canada. As a result, it's one of WooCommerce's top dropshipping plugins.
AliDropship Key features:
It makes the import procedure easy. You can manage imports directly from the WooCommerce admin panel. It provides an efficient Chrome extension; you can easily import products from AliExpress.
Bulk import products using categories, prices, and keywords. The advanced filter helps to select the best-selling items and showcase them.
Automatically sync option for product prices and stock levels. Imported content can be published instantly or can be drafted.
As part of your approach, add a price markup to products.
Dependable Support staff.
AliDropship Pricing:
The plugin will set you back $89. You can use it without WooCommerce, but we recommend it because it turns WordPress into a genuine dropshipping store. You can also purchase a custom-made turnkey store; the price starts at $299 (one-time payment). And for more, you can visit the AliDropship custom store.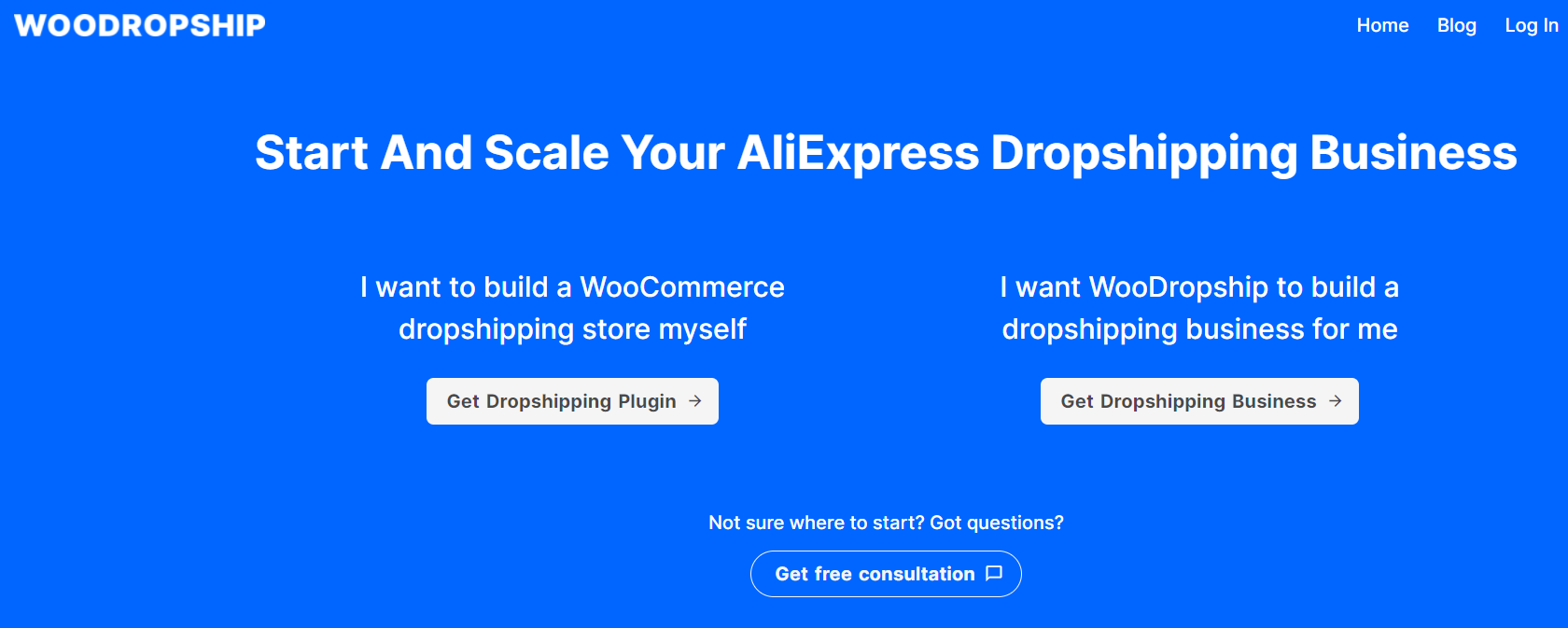 WooDropship connects your WooCommerce dropshipping store to AliExpress in the same way as the first one. It is a helpful plugin for making your WooCommerce store's dropshipping process smooth.
It has several useful features, such as notifying the drop shippers when one of their products is ordered, which will assist your store management. You can also assign inventory to individual suppliers and rapidly import it when needed.
You may also easily personalize the email templates and give different suppliers access to your store to edit their information.
WooDropship Key Features:
Import products from AliExpress for dropshipping. With a drop-down in the product edit page, you can allocate products to suppliers.
Customers will receive order notifications once their products have been ordered.
Customize your email notifications.
It's simple to add new supplier information. When their products are ordered, allow suppliers to modify information, change order status, and access consumer details.
WooDropship supports email SMTP configuration for better email deliverability.
The Amazon Affiliate program is supported.
WooDropship Pricing:
WooDropship offers four different plans. The first is free, and the others cost $14.99, $29.99, and $49.99 each month. The $49.99 monthly plan allows you to fulfill an unlimited number of orders and 60,000 product variants every month. All of the other features of the free plan are included in these last two pricing tiers.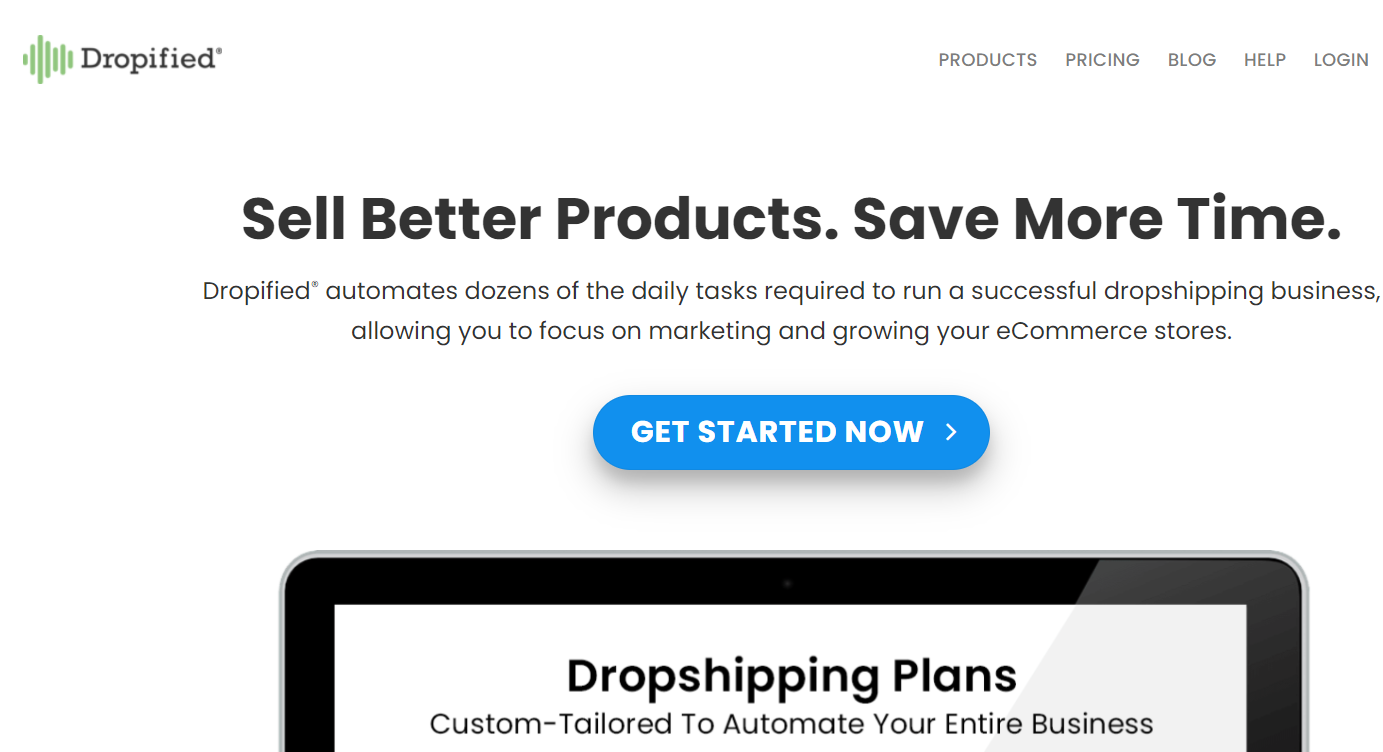 Dropified can assist you in searching for the top AliExpress and eBay products for your store. This plugin helps make your drop shipping experience seamless and hassle-free with its outstanding automation features.
Moreover, there are training courses available to assist you in more effectively marketing your products. Furthermore, the dependable support team will ensure that you have a fantastic Dropified experience.
Dropified Key Features:
AliExpress and Bay products can be imported easily into your WooCommerce store right from your WordPress Dashboard.
A chrome plugin that makes product research faster and easier.
You may choose to do it with a single click when you get an order.
Automatically fulfill an order in a single click through a centralized dashboard.
Products sync to offer a consistently positive client experience.
Options for image altering.
It provides dependable support and training materials.
Dropified Pricing:
Dropified has three membership plans depending on the order count. It starts with a pro plan for 77$/month that allows 750 total monthly orders. For more orders there are Dropified Plus(157$/month) and Dropified elite(237$/month) plans.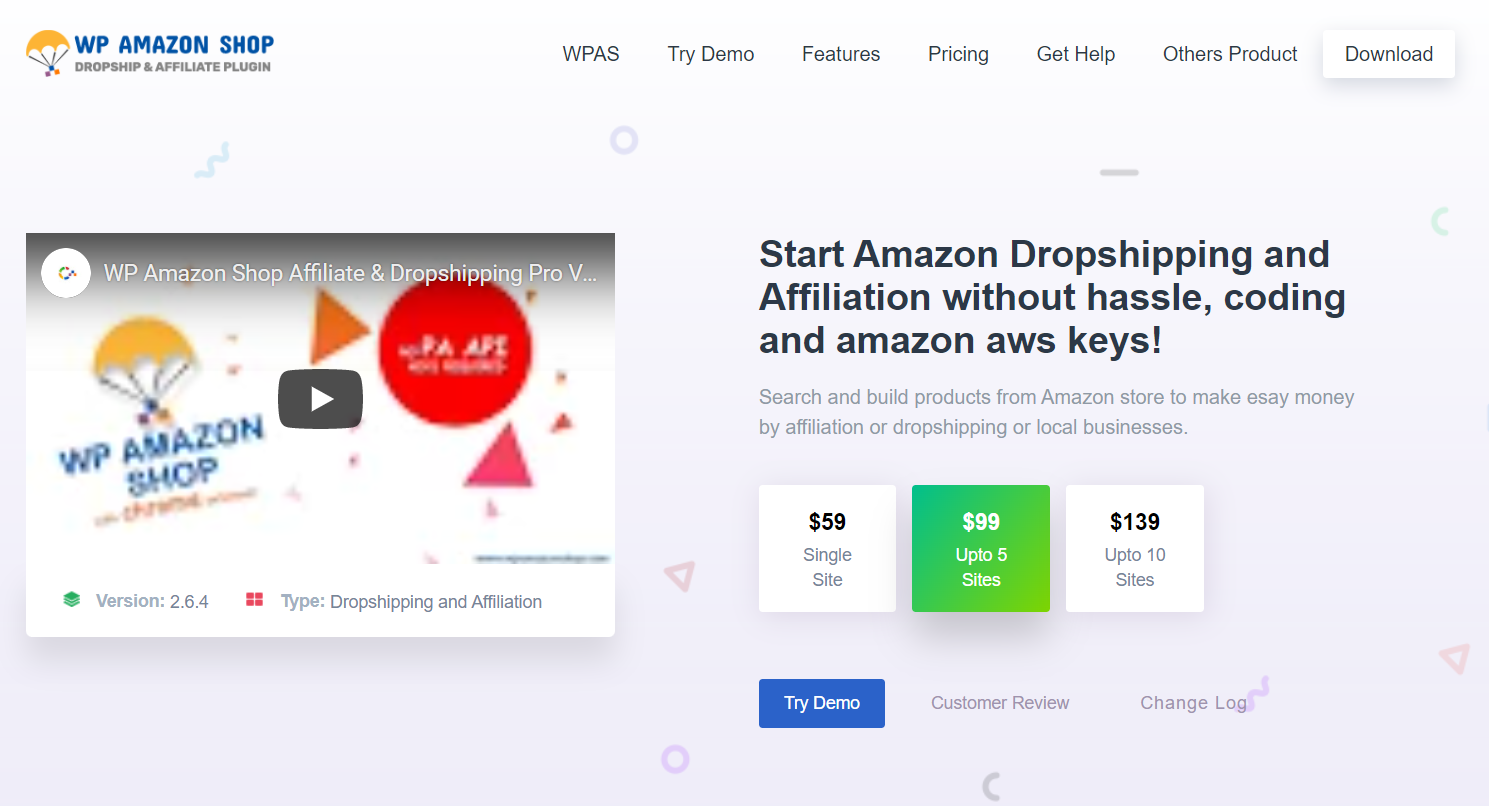 Do you want to highlight Amazon products without requiring any coding or AWS keys? Then you are at the door of your solution. WP Amazon Shop is here to set up a dropshipping store with Amazon products and highlight some of them without requiring any coding or AWS keys.
Depending on your interests, you can use this plugin with substantial or straightforward customization. You can quickly filter and import Amazon products into your store. You can also create percentage values for pricing modifications. The products will be synchronized so that when prices and stock information change, they will be updated automatically. You may also make changes to product details directly from the WooCommerce admin.
WP Amazon Shop Key Features:
Search and Easy Import Amazon products. Edit product information quickly.
Add additional features as per your requirement.
Add products based on categories.
Automatic Percentage Base Pricing
Amazon Product Gallery With High-Resolution Image
Stock and price synchronization. Powerful filtering options.
Star Rating and Reviews Count from Amazon
Add to cart redirected to Amazon cart.
Easy Payment Method.
WP Amazon Shop Pricing:
For a single site license, WP Amazon Shop costs 59$, and for a five sites license, you will have to pay 99$ for one year of update and support. But when you spend 139$ for ten site licenses, you get a lifetime deal with lifetime updates and support.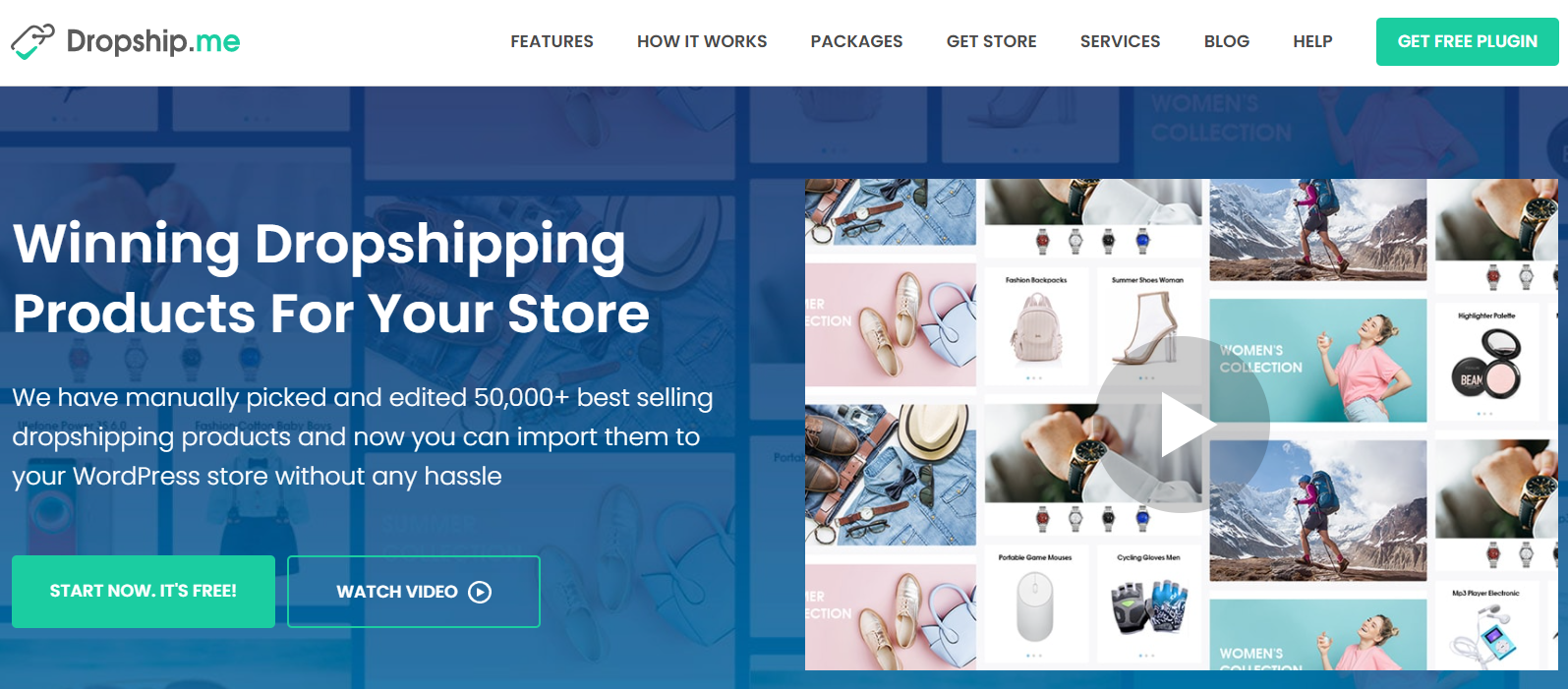 DropshipMe is a WordPress plugin that gives dropshipping business owners access to a database that contains over 50,000 of the top AliExpress products, all of which have been hand-picked by the DropshipMe team.
The wordpress plugin allows for 1-click product import. Still, it also includes fully optimized Titles, Product Descriptions, and Product Image galleries, all of which have been manually optimized by the DropshipMe team.
DropshipMe Key Features:
DropshipMe is a WordPress plugin that is simple to set up.
Import the highest-quality items from trusted vendors.
Pre-optimized for conversion rate optimization (CRO) and search engine optimization (SEO).
Each product has a title, description, and image gallery that are all optimized.
Import favorable customer reviews from AliExpress directly.
In comparison to other tools, there is a one-time expense.
Customer service that lasts a lifetime
DropshipMe also offers Dropshipping Stores that are completed for you.
DropshipMe Pricing:
DropshipMe has four packages based on the number of products you're looking to import.
$0 (Free) – 50 Products
$29 (One-time payment) – 100 Products (+10 additional products – Limited time offer)
$119 (One-time payment) – 500 Products (+200 additional products – Limited time offer)
$199 (One-time payment) – 1000 Products (+500 additional products – Limited time offer)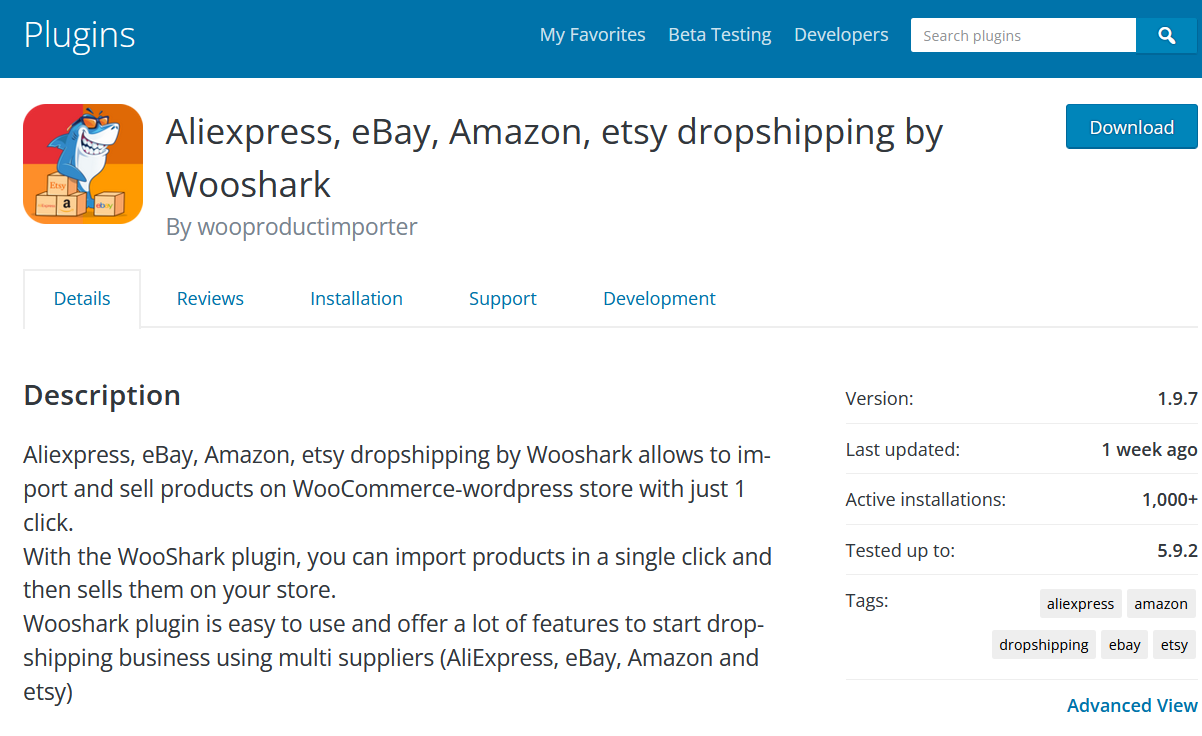 While most dropshipping plugins focus on AliExpress products, Wooshark includes eBay, Amazon, and Etsy, significantly expanding your product selections.
The free and paid versions of this simple plugin are both available. However, the free version's functionality is limited since it just allows you to import products and related information from AliExpress and eBay, and that's it.
Wooshark Key Features:
Unlimited direct imports from AliExpress, eBay, Amazon, and Etsy websites.
Automatic support for more than 50 languages and currencies
Product characteristics, descriptions, ratings, and reviews can all be imported and customized.
Importing in bulk from Aliexpress and eBay.
Editor of photographsCustomizations, deletions, and edits are all possible.
Calculation of prices via computer
AliExpress checkout form completion is automated.
Import items into specific product groups.
Stock levels and price synchronization on AliExpress and eBay Chrome extensions for single or all products
Wooshark Pricing:
There are two premium plans for Wooshark. The 'Silver' plan covers up to three stores and one user for $39.99 (one-time payment), while the 'Gold' plan covers five stores and three users for $59.99 (one-time payment).
Final Words!
Starting with drop shipping for the first time is not easy. Because there is no such thing as a fantastic dropshipping plugin for everyone, it's all about picking the finest WooCommerce dropshipping plugin based on your needs, technical knowledge, and budget.
Hopefully, this article helped you select the best WooCommerce dropshipping plugin for your WordPress website.
Which WooCommerce dropshipping plugin are you using? If you have any other questions, feel free to comment below!