Are you tired of configuring the same settings again and again? Want to store your settings and use them from time to time? WooCommerce comes equipped with a lot of tools which will make your work more convenient.
A plugin called WP Options Importer allows you to preserve your settings on your device which you can upload whenever you are configuring a website. WordPress presently exports all of its content via WXR(WordPress Extended RSS format), and then import that
through this plugin.
This process includes all posts, terms, menus, comments and users, but it doesn't touch options. In addition to general settings, options can include widget configurations, plugin settings,
theme settings, and lots more.
This can be very time-consuming to migrate manually. WP Options Importer aims to fill that void and save us all a lot of time.
Follow the steps below to install this plugin:
Firstly, download the plugin from the link attached,
https://wordpress.org/plugins/options-importer/
After downloading, you need to upload the plugin file to the Add plugins section:
Plugins > Add new > Upload Plugin

Browse and upload the file. After the file has been uploaded, simply click Install Now. Then activate it.
Next, go to Dashboard > Tools > Export and then select all your options from the drop-down menus and click Download Export File to export your settings. As shown below: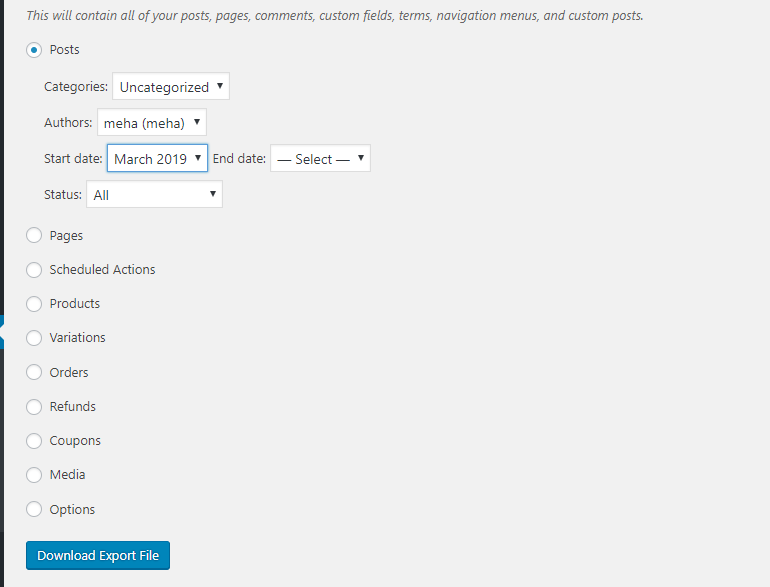 You can export the settings as per your requirements. If you have any query feel free to ask below.