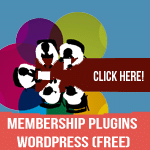 Anybody remembers the days when WordPress was meant for blogging? When it's main function was to login, post your next article or blog post, publish it and then read and reply the readers' comments?
WordPress, thanks to being open source and having gathered a huge and amazing community, has progressed far more than that. It is now a full-fledged CMS, with plugins that allow for media management, e-commerce, and even forum functions and multi-user communities. WordPress can even be your CMS of choice for your membership site, thanks to a plethora of plugins, both free and commercial, that can help you build your new user website.
We have tested 8 free WordPress membership plugins and ranked them according to an array of criteria. Also, we read a big number of reviews of a number of paid plugins and we present our thoughts on them.
FREE MEMBERSHIP PLUGINS
The plugins We compared:
The comparison was focused on three points:
EoU: Ease of use (ease of configuration, intuitive interface, documentation, shortcodes, theme integration). Max score: 3.
Fea: Features (membership and groups hierarchy, payment forms integration). Max score: 4.
Func: (Popularity, user reviews, compatibility with WordPress 4.7+). Max score: 3.
---
Comparison Table
| | EoU (max:3) | Fea (max:4) | Func (max:3) | Total |
| --- | --- | --- | --- | --- |
| Users Ultra | 2.5 | 2 | 3 | 7.5 /10 |
| Ultimate Member | 2 | 1 | 2 | 5 /10 |
| Paid Member Subscriptions | 1.5 | 2 | 3 | 6.5/ 10 |
| Simple Membership | 3 | 3 | 3 | 9 /10 |
| WP-Members | 2 | 2 | 2 | 6 /10 |
| Paid Memberships Pro | 2 | 4 | 3 | 9 /10 |
| s2Member Framework | 1 | 2.5 | 2.5 | 6 /10 |
| Groups | 2 | 3 | 3 | 8 /10 |
EoU: 2.5 – Fea: 2 – Func: 3
---
Users Ultra Lite offered to create automatically for me the sample pages to get started, while offering the shortcodes and the option to choose the page slug. It plays nicely with the twenty- themes that I tried, as well as with a few free themes with more complex visuals.
The documentation is pretty exhaustive, and their user forums seem active.
It offers plenty of features, and all of them customizable. There is Mailchimp and Woocommerce integration, protected content for different membership plans, users media galleries and many more features.
On the flip side, it only uses PayPal integration and, at least in the free version, there is not an intuitive way to use social login.
EoU: 2 – Fea: 1 – Func: 2
---
I have to say that, upon activating this plugin, I got put-off by the fact it automatically installed 7 top level pages in my WP site. I understand it is done with ease of use in mind, however I would have appreciated been given a choice – something other plugins reviewed here pulled off.
The plugin offers many features to build a community – your members can build profiles, media directories, view content on a per-membership basis. However, paid subscriptions is not the main focus of this plugin and, as such, paid options are not integrated at all. While membership brings to mind forums and users community, the focus of membership plugins has clearly steared towards the paid subscription side. And Ultimate Member clearly lacks on this field.
EoU: 1.5 – Fea: 2 – Func: 3
---
The "Paid Member Subscriptions" plugin doesn't get enough love. Of the 5000+ active installs in 15+ languages, it only has about 30 reviews. It might be due the unfortunate choice of a name, very similar to another very popular free membership plugins (also reviewed in this article).

Adding a membership/subscription group
---

Assigning post access to a group
This plugin has a robust interface, with all the important information concentrated in one page. After you create membership plans, you can charge your users (only through PayPal), restrict content, create new user roles based on the membership name. One thing that this plugin does not, is create the necessary pages for login/register. The user has to manually create the pages and insert the shortcodes that give them the necessary functionality.
EoU: 3 – Fea: 3 – Func: 3
---
Another plugin that doesn't get enough love. With over 20000 active installs, it only sports a bit over 100 reviews in the WP plugin directory and it is barely ever mentioned in comparisons between membership plugins.
With this free plugin you get unlimited number of membership levels, content restriction by post/page and by category. It also offers payment through PayPal and Stripe. Everything is configurable, most of the options you would expect it to have are there and it plays nicely with the tested themes.
EoU: 2 – Fea: 2 – Func: 2
---
The free version of the WP-Members plugin allows you to request your users to subscribe so that they can see your full content. Everyone else can only see excerpts of your posts (and your pages, if you so choose). The idea is simple and works! While not as versatile as other membership plugins examined here, it certainly does let you build a site with premium content.
This plugin does not offer different membership levels, or the option to only hide some posts from non-subscribed users. It also does not allow you to charge for access to your site – you need the Premium version of the plugin to do this. And if you wonder how is it like to deploy the Premium version of this plugin on a large content site, all you have to do is to check the very extensive documentation of WP-Members. By subscribing to their site as a member, you get access to plenty of extensions that will add almost every possible functionality to WP-Members.
EoU: 2 – Fea:4 – Func: 3
---
The first thing to jump out when I searched for the Paid Memberships Pro, was the amount of extra addons for integration with systems such as bbPress, Woocommerce, Mailchimp, etc. You can see the full list, after installing Paid Memberships Pro, in the "Add Ons" tab.
The amount of things that this plugin can do with the extra add-ons is almost overwhelming; every possible feature you'd imagined you want from a membership plugin is there, and several things you never imagined. Including content delay; this is a feature also known as content dripping and, apparently, it is very sought upon in membership sites.
Many of the extra add-ons – such as the content delay – are paid, however the amount of features offered in the free version is still on the overwhelming side. Membership levels, payment by PayPal, Stripe and even by check, discount codes, as well as the free extra add-ons to integrate your WordPress site with Mailchimp, bbPress forums, as well as KISSmetrics to track user activity; it is, without a doubt, a very feature-rich plugin.
EoU: 1 – Fea: 2.5 – Func: 2.5
---
The s2Member plugin redirected me to an overview/help page immediately upon activation.
This is positive, implying that the developers have a well thought-out documentation, nevertheless it is a bit off-putting for a non-technical user, because it says that it might have a learning curve. Does it, though?
The features are comprehensive, with detailed options and plenty of different restriction options, content download options (including even content hosted on a CDN), notifications, and more. Out of the box Mailchimp and bbPress integration, as well as PayPal payment are certainly on the plus side.
However, it's interface is not as intuitive as other plugins reviewed here and it might be intimidating for a non technical user. Also, I was slightly disappointed that only 5 membership types were supported; it is highly unlikely that any kind of setup will need more than 5 membership levels, however most other plugins offer unlimited levels and I've come to expect this as a feature.
Maybe the most interesting feature that s2Member Framework offers is a very exhaustive list of options for content restriction. It really allows you to control every part of your web and only give access to the users you want, with category and tag restriction options, sell individual posts with a "Buy now" options and even only restrict part of the post or page content.
EoU: 2 – Fea: 3 – Fun: 3
---
Groups is a robust, feature-rich plugin that, together with the recommended extensions, free and pro, it can cover most needs of a membership site owner.
The first thing you want to do upon installing this plugin, is to check out the capabilities offered. There are many capabilities, aptly named, and extensive, allowing you to offer any combination of access rights to your users.
Supporting an unlimited number of groups, you will really find there is no limit to how many group/capabilities combinations you can have, to define different membership levels.
Integration with PayPal, Woocommerce and Gravity forms with their free extensions, as well as a custom newsletter and forum capability, and , additionally, access control with shortcodes, there is a reason that over 20000 users use this plugin.
---
Thank you for reading our review; please note that the above mentioned ranking are based on personal opinion, after individually testing the above free WP plugins. Please make sure to check the Part 2 of this article, where we will be comparing paid membership plugins.