If your website is slow, you might lose visitors. Here is what Kissmetrics says on the matter, referencing a survey by Akamai and Gomez.com. According to their infographic, visitors on desktop expect the website to load in a maximum of 3 seconds, while mobile users might allow for 6-10 seconds before they abandon your page.
46% of mobile phone users expect load times as fast or almost as fast as their desktop

47% of consumers expect a load of 2 seconds or less
40% will abandon a page that takes more than 3 seconds to load

16% of mobile users expect a maximum of 15 seconds load time
… and 30% have only 6-10 seconds of patience
… while 16% will only wait up to 5 seconds.
See the following infographic for an overview of why speed matters: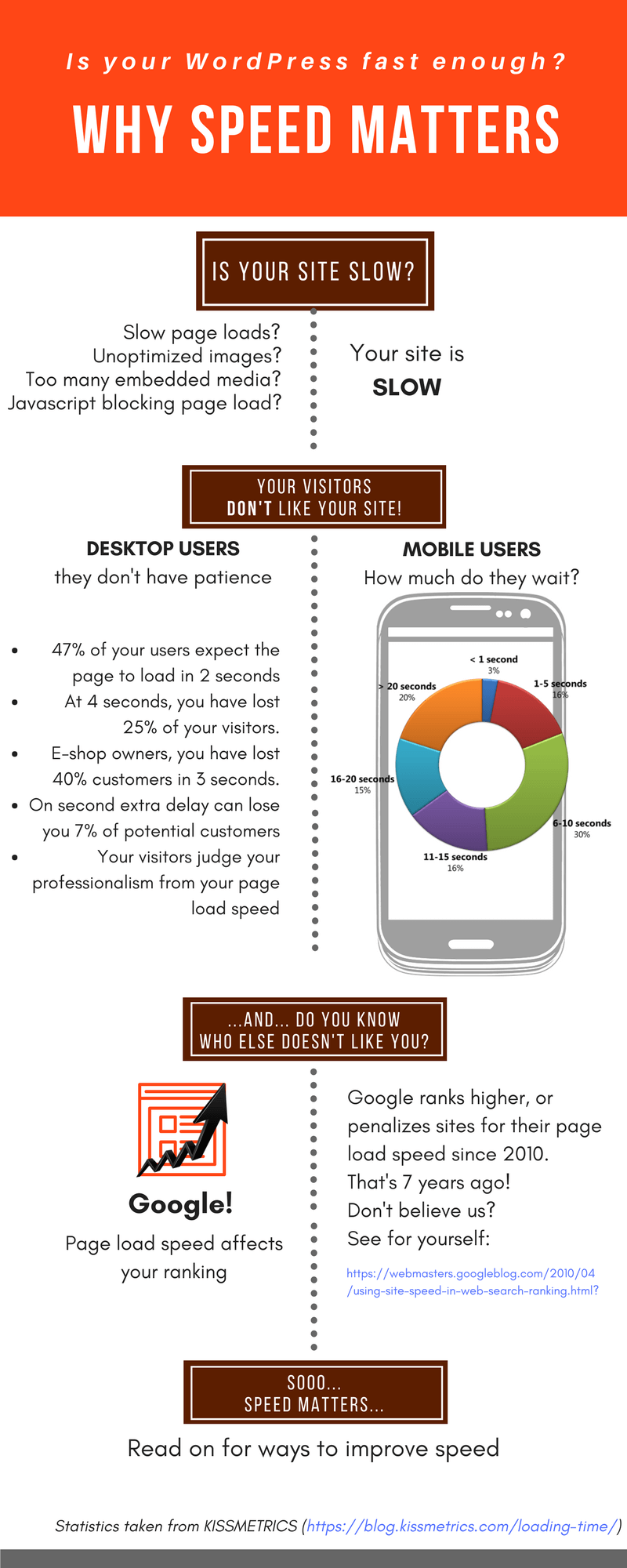 How to find out if my site is slow?
If your page feels extremely slow whenever you visit it, then, you know it. Your site is slow.
However, sometimes your page does not feel sluggish, but it still is not optimal. Here are three ways to find out:
GTMETRIX

GTmetrix is an online service that will visit your site and give you a report of your website's speed. Their reports are quite detailed, and have many pointers regarding what you can do to improve your page load speed.

Google PageSpeed Tools

Google PageSpeed Tools will also check your page and give you pointers how to improve your load speed, in both desktop and mobile. While you are on the Google Developers website, don't forget to test how mobile friendly is your website.

FirstSiteGuide Lookup Tool will help you analyze website performance and discover all important information about any website you need. Besides website speed analysis, the tool is also known for providing a competitive analysis, such as rank tracking, web monitoring and keyword research.

Manage your WordPress sites with ManageWP
ManageWP Orion is a fantastic service on it's own right. If you have many different WordPress sites, you can access them all from a centralized dashboard and perform administrative and maintenance routines from one place. You can also schedule regular backups.
More relevant to this article's purposes: You can check your page speed directly from your ManageWP dashboard. It uses similar metrics services as GTmetrix.
Okay, my site is slow. What can I do?
Glad you asked! Here are 5 simple things you can do today and make your website faster.
Is this enough?
Of course not. These are simple, actionable things you can do within an evening and improve your page's speed. Actually optimizing your website would take much more hands-on work, code editing and experience. However, these simple things will definitively help both Google and your visitors to enjoy your website.