In this tutorial we'll learn how to add sort by name option in sorting options of dropdown.
This is the default sorting dropdown on shop page.
Our team at Themelocation is comprised of WordPress developers of high expertise
We can maintain, support and manage your single, or all your clients, website with dedication
Our skills are at your disposal.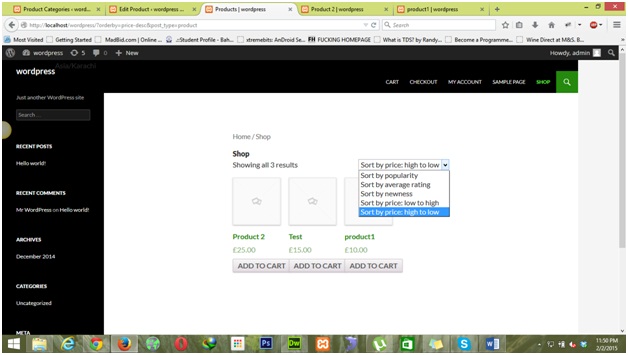 Now add the following lines of code at the end of functions.php file.
functionmonkey_ordering_args( $sort_args ) {

 

$orderby_value = isset( $_GET['orderby'] ) ? woocommerce_clean( $_GET['orderby'] ) : apply_filters( 'woocommerce_default_catalog_orderby', get_option( 'woocommerce_default_catalog_orderby' ) );

switch( $orderby_value ) {

 

   // Name your sortby key whatever you'd like; must correspond to the $sortby in the next function

case 'slug':

       $sort_args['orderby'] = 'name';

       // Sort by ASC because we're using alphabetic sorting

       $sort_args['order']   = 'asc';

break;        

}

 

return $sort_args;

}

add_filter( 'woocommerce_get_catalog_ordering_args', 'monkey_ordering_args' );

 

 

// Add these new sorting arguments to the sortby options on the frontend

functionmonkey_add_new_orderby( $sortby ) {

 

// Adjust the text as desired

$sortby['slug'] = __( 'Sort by name', 'woocommerce' );

 

return $sortby;

}

add_filter( 'woocommerce_default_catalog_orderby_options', 'monkey_add_new_orderby' );

add_filter( 'woocommerce_catalog_orderby', 'monkey_add_new_orderby' );
You can access functions.php file here: