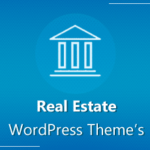 Given the popularity of the WordPress platform (it is the platform behind about 60% of all websites), it is not surprising that there are specialized WordPress themes for every kind of business.
Real estate agencies have specific needs to consider when building a website: Property listings, informative image gallery, Google Maps integration and advanced search with options to search by price, area, location, number of bedrooms.
In this article we will explore 18 amazing commercial WP themes suitable for real estate business. All the themes listed feature all the niche-specific functionalities that are necessary to represent online a real estate business.
– Real Homes
Real Homes is a modern, responsive, feature-packed theme that covers almost every feature a real estate agent would need. Its pixel perfect design makes it attractive looking and it is clear that it was designed with the end user and usability in mind.
What jumps out from the first glance is the advanced search option, located right below the home page slider, engaging the users immediately. The different theme templates provide various configurations of the home page slider, such as a gorgeous Revolution slider or a very practical Google map with pinned the locations of available properties.
The theme features a very extensive and detailed documentation, with screenshot guides covering all its major features. The person who manages the site is greeted with a very easy and intuitive way to add new properties. Overall, this theme saves time for the agency, with its versatile features and gives a modern-looking, intuitive user interface.
– Houzez
Houzez theme is a very versatile and flexible theme, which offers a huge number of options, without sacrificing intuitive design and usability. It provides you with a great selection of different navigation menus, different header options, layouts and listing page templates. You can customize your website in no time with the visual composer, or import the demo and start editing the demo content.
Houzez includes all of the options one would expect in a real-estate theme, advanced search, custom listings, Google Maps integration. It is also responsive and retina ready, with the possibility of parallax background or video background. On the whole, it is a very well thought out, robust theme with a modern design and all the options one might need.
– Renter
Renter is a clean and modern looking theme, build on WARP framework and UIKIT. It features all the elements one would expect from a real-estate theme. Full width slider, that looks amazing in all screen sizes, advanced search in header and a mega-search pop-up from the menu, packed with search options and filters, great layout customization options, and a demo package for quick start.
Perspective clients and agents will appreciate the clean looks and the comprehensive search and listings, and developers will love the themes well-documented code, the compressed/minified files and the detailed documentation.
– Apartment WP
Gorgeous visually, fully responsive and with pixel perfect design, Apartment WP is a technically advanced theme that gives the developer all the tools to customize but doesn't get in the way of the less technical user.
The creative idea of the flipping property card – a card with the property photo and details, that will flip and reveal the location on a Google map once you hover over it – is impressive in its simplicity and originality. Multiple presentation options, custom widgets, skins, this theme is truly unique, flexible and easily customized.
– FullHouse
FullHouse aims to be a complete solution for a real estate agency. It comes with dedicated add-ons that give the user a full management system for individual Agents and for managing properties.
It has a modern look thanks to Bootstrap integration and plenty of options, such as different header options (property listing, property info, Google Map, search), different listing and property page styles. It includes the Visual Composer plugin for your convenience, but the user can also opt to use the one-click installation.
It is worth noting that the theme comes with a free mobile application and that the team behind the FullHouse theme has released the "Opal Estate" add-on separately, for free.
– Real Estate WP
Real Estate WP is a theme that gets down to business. It has all the niche-specific functionalities that one would expect from a real-estate theme, and it focuses on engaging the visitor immediately by giving them the option to search their ideal property on the full-width Google Map header and refine their search with the comprehensive filters.
This theme also happens to be the developer's joy: everything is hooked into WordPress actions, the code is clean, maintainable, documented and W3C valid and the documentation very detailed.
Some of the themes most interesting features are: property submission from the Front End, Mail Chimp integration, Agents and Agencies profile pages and, of course, fully customizable layouts, header options and property showcasing options.
– Qvrenti
Qvrenti is built with WooCommerce integration, which makes it suitable for any kind of online shop/eCommerce, however it has features specifically focused on real estate business.
It is very customizable, with many options for styling the homepage and the property listings. It is fully responsive, thanks to Bootstrap integration and it produces HTML5 valid code. It is translation ready, with RTL (right-to-left) support and well documented. Overall, it is a nice, versatile theme that can be deployed quickly to a pleasant, modern looking website.
– Realtyspace
The interactive search form on the header is the first thing that jumps out when checking out the demo of the Realtyspace theme. Upon choosing a location, the header picture immediately switches to a Google Map that is updated as you refine your search.
Realtyspace promises – and delivers – to engage the user from the first second, featuring different property listings, blog feed, testimonials, profile pages for agents and property comparison tables.
This theme includes not one, but two different page builders, one-click demo import, social account login, contact forms, PayPal integration and tons of other niche-specific options, making it a very flexible and versatile theme with heavy focus on usability and user experience.
– Estate
Estate sport a modern, professional design and all the features one should expect from a real-estate theme. The design is well planned, as it shows with the theme's compatibility with the Booked plugin, to arrange meetings between agents and clients.
With plenty of layout and presentation options, shortcode builder, Visual composer integration, animation effects and two amazing sliders to choose from, Swiper Slider and Revolution, this is a very versatile theme, which, additionally, includes many advanced tools and widgets for a great user experience.
– Dream land
Dream Land differs from the other themes listed here, as it is a single property real estate WordPress theme.
Because it is focused on the sale of a single house, it packs features that will make the presentation of the property impressive. Full width images, tour pages and one-page presentation of the property, it has all the options one would need to successfully promote their house on sale.
Dream Land is the theme to use to make a property stand out, so that it can be best advertised. It is an ideal solution for the property owner who wants to advertise their sale, as well as for the real estate agent who wants to draw attention to one house/villa/apartment and highlight all the properties selling points in a visually impressive manner.
– Avlar
Alvar is a modern-looking, responsive and retina ready theme, that includes an one-click demo installer and many page layouts to choose from.
Avlar is addressed to big real estate agencies with multiple agents. It allows login for every agent, so that they can submit properties directly from the front page, in the very detailed and intuitive form provided.
All the expected, niche-specific features are present in this theme, as well as individual agents profiles, properties bookmark and favorites, a front-end theme customizer that allows adjusting the site colors, fonts and layout, a sticky header, fixed at the top of the browser and a contact form widget included.
– DreamVilla Multi Properties
Dreamvilla, a beautiful WordPress theme that makes use of the most modern Bootstrap elements, is a lightweight theme, responsive and with all the niche specific features we have come to expect from a real estate website theme.
Much like it's single property counterpart, DreamVilla Single Property, this theme makes use of the Redux options framework for themes and plugins, allowing the user to customize the theme layout with imagination being the only limit. It also offers extensive options for user management, including property submission from the front end, social profile login, paid packages for front end submission with PayPal integration, etc.
It's a very versatile theme that, however, remains easy to use and intuitive, both for the admin and the end user.
– Javo Home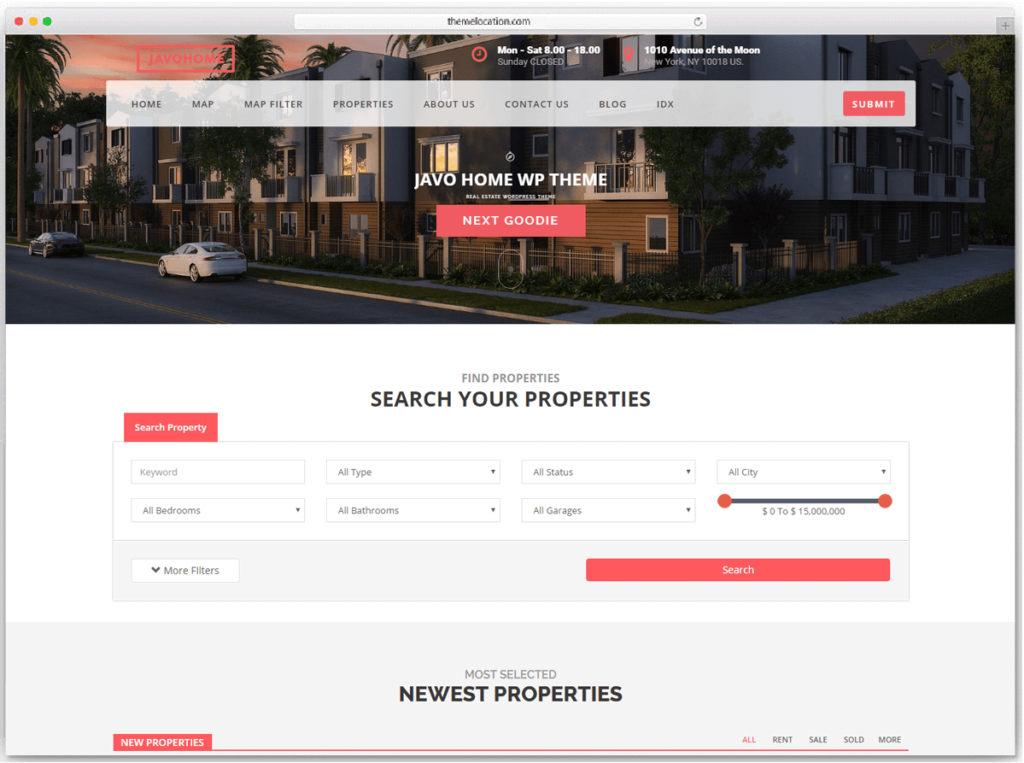 Javo Home, like most of the themes in this list, offers an one-click demo installation option, that will get your real estate website theme running in minutes, with all the real estate specific functionalities that one should expect to find.
However, this theme is meant for extensive customization and addressed to users who want to built their website the way they want it and not be limited by the theme designer's preferences.
While you will get up and running a perfectly functional and modern looking real estate website with the one click installation, the very extensive control panel will allow you to customize it as much as you want it. All the settings can be overridden and the theme will never get in your way when you are trying to adjust the layout.
– WP Pro Real Estate 7
WP Pro Real Estate is one of the most popular real estate themes in themeforest and for good reason, too. All the niche-specific functionalities are present and correctly implemented in this, as well an impressive amount of per-configured packages to meet all different needs.
Whether you want a multi-listing site for your agency, a single listing page to highlight your property for sale, or a beautiful and easy to use way to promote your vacation rentals, WP Pro Real Estate has got you covered. Each and every option and feature is customizable to meet your specific goals, and the result will be a visually appealing, responsive and retina ready, user friendly website that will engage the user immediately.
– Parahouse
The first thing that comes to mind upon visiting the Parahouse theme demo page is: beautiful. Everything about the themes presentation screams attention to detail and expert design. From the typography to the smooth effects, the clean looks and the elegantly presented functionality, this theme is visually amazing.
It includes absolutely all the functionality we have come to expect from a theme of this niche, including a powerfull search and filter system, as well as two addons from the Opal team, that we saw in the "FullHouse" theme as well: Opal Property and Opal Agents.
Suitable for multi-user agencies, rental villas or single property promotion, it is a beautiful, fully responsible, retina ready theme.
– Propper
Propper is actually a theme more focused to architecture projects, that can also be used for real estate. We included it in this list cause it caters to a specific niche that might be a bit underrepresented.
Propper allows the real estate agency to advertise houses or apartments that are currently under construction, and offers a great selection of options to showcase the property as it is built, countdown timers and subscription notification for individual projects and photo galleries of the various stages of the projects.
All this in a Bootstrap-based, beautifully designed responsive website with many build features for the admin and very user friendly and engaging for the end user.
– Preston
One of the freshly created themes, Preston is responsive, modern theme, designed with elements of flat design, hero headers and other influential design trends of the recent years in mind. It is a robust, well designed theme, with everything hooked into WordPress actions and an extensive documentation
Preston features all the functionalities one should expect from a modern real-estate template. It is also easily scalable, it can be used for displaying a single, or for a few properties just as easily as for showcasing multiple properties of large real estate portals.
With an included custom plugin agents can be assigned to properties and managed and the theme offers Front End property submission option as well as a "pay per post" option.
– Landmark
Another recently created theme, Landmark is a beautiful and very polished responsive and retina ready theme, which offers a variety of options for home page and property listings.
Besides all the expected, niche specific features, it also sports a Live Search, that updates search results as you choose the filters, floor plans to better showcase the listed properties, favorite/bookmark options, Frontend property submission and a feature to compare properties.
With MailChimp and Contact Form 7 integration, countless customization options with different color schemes and Google Fonts, translation ready and LTR support, as well as compatibility with WooCommerce, Landmark aims to be a complete solution for real estate business.