OSOLCaptcha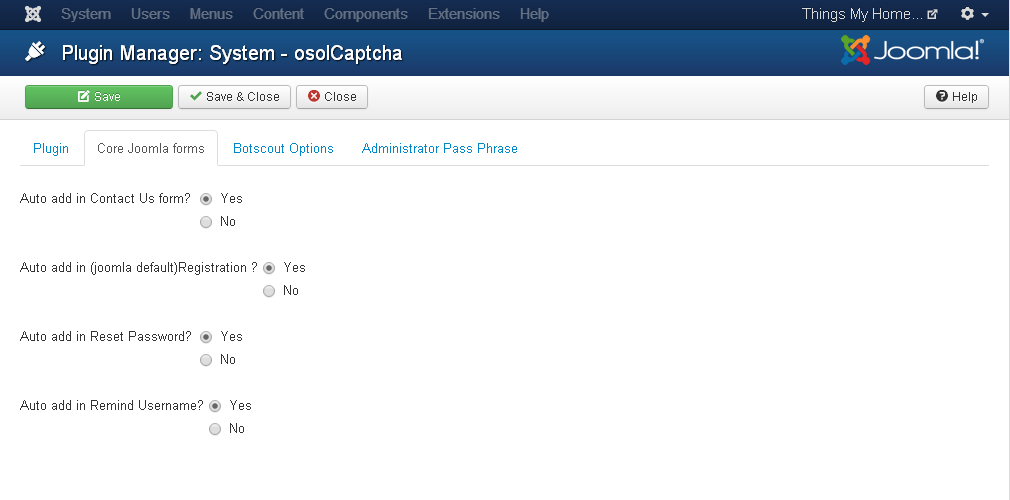 Here we come across a great extension Joomla gets classy OSOLCaptcha. OSOLCaptcha is for joomla core and custom forms. Insert captcha in registration, contact, retune password, and remind username forms on enabling this plugin.
This extension is easy to use with fast customization and its colors are appreciable.It supports outstanding contact support.
Use OSOLCaptcha for your website,this is  a great professional captcha!, with well defined REGEX pattern.You can also create the captcha for other component extension by placing the created capatcha file "noncore Forms" folder.
Use the newer version plg_osolcaptcha_2.0_for_Joomla1.5 and it automatically adds itself to contact forms.
Joo ReCaptcha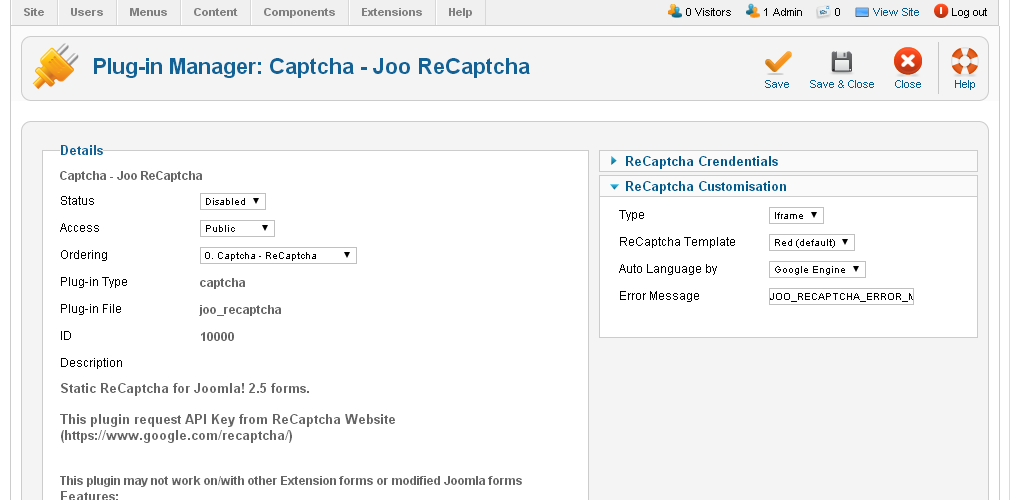 Are you worried about insecurity of your website?. No worry further. Here is the miraculous  Joomla extension ,Joo ReCaptcha, that  prevents abuse from  non human visitors. Add a free ReCaptcha form on your webpage. This extension is Joomla! 1.5, 1.6/1.7 & 2.5 native,its easy to setup and does not bang on original Joomla CMS code.
This is the preeminent and easiest captcha extension so far. Just install and pick  where you want it to show up. Installation and configuration is done within no time. Language detection works perfectly here.You can secure your Joomla!. We have various versions set up. Features are described below.
Features of v.2.5
V 2.5 adds ReCaptcha for user Registration page and contact pages
This is stunning " ReCaptcha" for forgot username and password
Iframe/Ajax display mode
Auto language detection is done with auto SSL
V 2.5 gives essential and basic templates (Red, Black, White, Clean)
You can get a custom error message on failure
This version maintains all forms data on failure.
Features of v.1.5 & 1.6
Add ReCaptcha to user registration page, contact pages and add to submit link page
V 1.5 &1.6 supports Ajax Mode
This keeps all forms data on fail
V1.5 &1.6 request ReCaptcha API
Changelog
Following changelog must be seen while installion and compatibiliy of extension.
FOR V1.6
For v.1.6.2, keep remember field values for contact formFor v.1.6.1, always Fix registration for issue
FOR V1.5
For V.1.5.5 – V1.5.7,Fix SEO/SEF issues
FOR V.1.5.4
Some times offer  conflicts with other Captcha plugins, fix conflicts
Offers conflict with PRO version, fix it.
FOR V.1.5.3
Fix Contact Form security
Add and fix Language file
FOR V.1.5.2
Fix all library conflicts, Ajax instance security, Iframe instance security
Add ReCaptcha for Login (no module), ReCaptcha for" Forgot Username", ReCaptcha for "Forgot Password" 
FOR V.1.5.1
Fix nonAjax (iframe) Instance and add templates( Red, White, Blackglass and clear) 
Security Images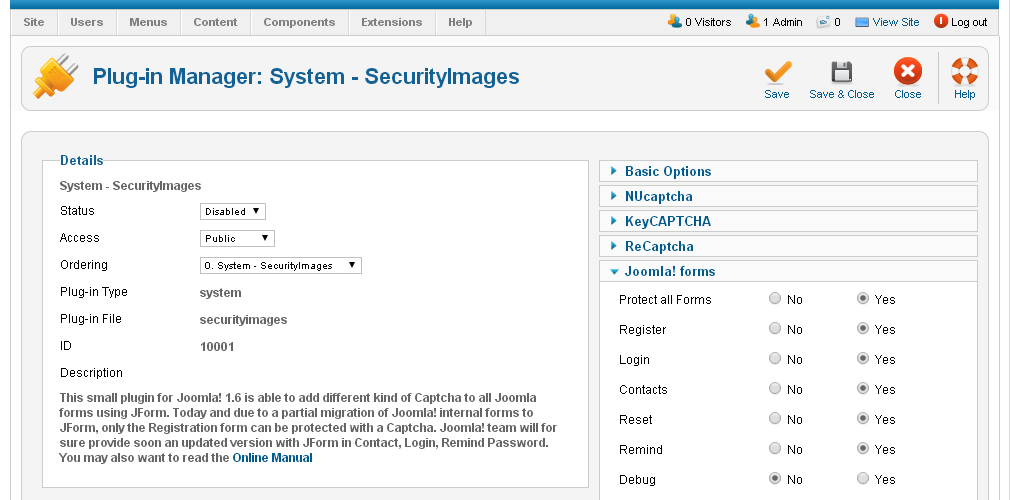 Joomla extenions have been used in websites and blog to prevent bots from posting spam links , preventing bot-generated spam, preventing bots from taking part in online polls, in case of registering for free email accounts and collecting email addresses etching order to prevent all the spam, this time  we offer our outstanding Joomla extension in the form of "Security Images" where technical height and state of art features meet mutually.
You might have been to a website where you had to register and the registration form requires that you type like the same phrase that is found in a difficult-to-read image? Joomla! has now this opportunity of doing this, thanks to component com_securityimages. It will protect you against the majority of spammer's shots.
"Security Images" is one of the superlative extension, it provides you everything that you are thinking about it before downloading. It operates on diverse forum captcha which we haven't experienced ever before.
Joomla! 1.6. X – Use Security images 6.X
Its distinct features make it different from many other versions
Native Joomla! 1.6 plugin, not a component anymore!.
Use Joomla! building extensions manager for easy update.
Support best online Captcha services: Recapctha, KeyCaptcha and NuCaptcha.
Protect all JForm Field of all Joomla! Extensions without ANY patches to Joomla! core or extensions.
Joomla! 1.5. X – Use Security images 5.X
Its features are outstanding and radiant
Components + FTP Joomla! 1.5 core patches.
5 families of highly configurable captchas.
Used by many extensions: akobook, akocomment, Joomla! contact, login and registration, simple board forum.
Joomla! Core patches for protecting: Contact, Login, register, lost password, lost user account, Akobook, Akocomment, virtuemart.
"Security Images" enhance the web security level by providing options of Recapctha, KeyCaptcha and NuCaptcha as per requirement. It has extension manager for easy updates.
Use this wondrous Joomla extension .This is recommended. Try this time.
---
EasyCalcCheck PLUS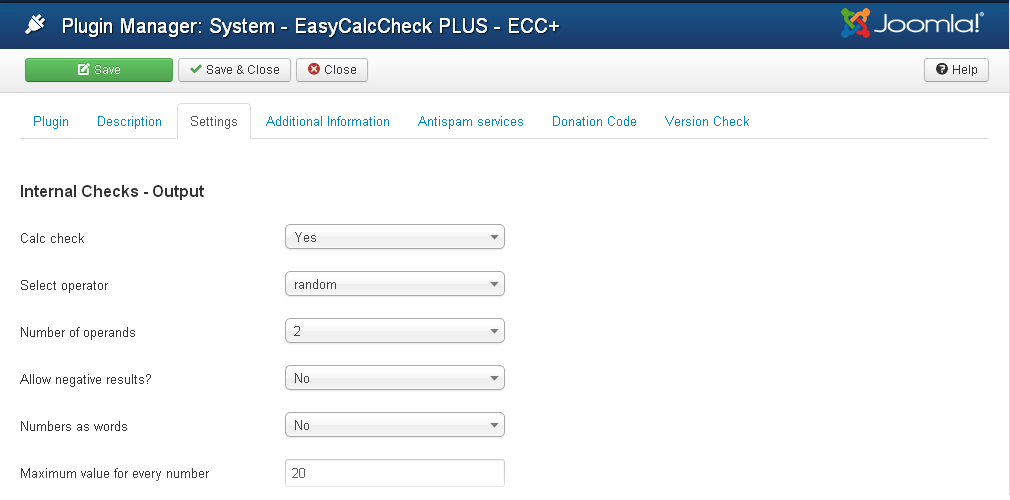 Captchas are the extensions that have been used in sites and blogs to prevent bots from posting spam links as a comment or message, preventing bot-generated spam and all other  spam activities.
Here Joomla comes up with its finest extension to make your site spam free.This is a state of art and featured extension that makes  user always contented"EASY CALC CHECK PLUS "protects Joomla! core forms and 3rd party extensions by the incorporation of anti-spam services and an arithmetic problem, a question, a hidden field and a time lock.
With the great custom call specification every form can be protected in Joomla! with extraordinary syntax.Integrated external antispam services: Google ReCaptcha, Akismet, Honeypot Project, StopForumSpam, Mollom, Bot-Trap, Botscout.
The more pleasant features are as under:
A astounding supported 3rd Party Extensions in the Joomla! 2.5 version: aiContactSafe, AlfContact, Community Builder, DFContact, Easybook Reloaded, Fox Contact, Flexi Contact, Flexi Contact Plus, JomSocial, Kunena Forum, Phoca Guestbook and Virtuemart
SQL Injection and local file inclusion protection are included as well.
The extension protects the backend via a token., with the right token only, the administrator login site can be opened!
Zero spam provision
Extension is absolutely free, but you need a subscription for support.
Easy to install-spam extension
No recognizable images but offers a cleanly a math problem and done. So be it.
Through the incorporation of 3rd party components, it will be even enhanced, widespread and universal.If you want a simple way of protecting your site against spam then this is the best option and you don't need malicious reCaptcha!This is trouble-free to install and setup.
Final product of all sites having "EasyCalcCheckPlus" is  no spam received! Also remember, upgrading is quite comfortable.